Event Information For ' Manchester Airport Aviation and Transport Fair'
Date:
05 July 2014-06 July 2014
Times:
10:00am to 4pm
Car Information:
Just as last year, no application forms are required, just advise me of the number of vehicles attending on each day, either by e-mail or phone. What we can offer :- Free admission to the site and parking for all participating vehicles, their drivers and passengers. - Free admission for two persons per participating vehicle to the Indoor Aviation & Transport Fair. - Dedicated areas for Historic & Classic Vehicles. - A trophy for the most meritorious Historic & Classic Vehicle - A very interesting 2 days with lots of items of interest to you and your family. - An opportunity to see and photograph the worlds largest airliner the Airbus A380 and also the worlds newest airliner, the Boeing 787 Dreamliner. - A programme of short visits to Concorde. (at extra cost) - What we cannot guarantee is good weather !. If you have attended any of the previous Aviation Fairs you will know what a great weekend it will be, in a relaxed atmosphere with lots of things to see and do. Once again, please let me know how many vehicles will be participating each day
Event Description:
Calling all Classic & Historic Vehicle Enthusiasts! First let me introduce myself, my name is David Mackereth, this year I am handling the vehicle bookings for The Aviation Societys 6th annual Manchester Airport Aviation and Transport Fair which this year is to be held at the Runway Visitor Park. Once again Alan Cross (who is the North West Regional Officer for the Mercedes-Benz Club) will be organising the vehicles over the weekend. We would very much like you, your organisation and any of your friends and contacts with interesting vehicles to attend this years Aviation & Transport Fair.
Location:
Runway Visitor Park Manchester Airport
Area:
Cheshire

Region:
North West
Postcode:
WA15 8XQ
Organiser Information:
Contact Name:
David Mackereth
Contact Address:
The Aviation Society, c/o The Aviation Shop, Terminal One Arrivals, Manchester Airport, M90 1QX Tel: 0161 748 7296 Mobile Number: 07722 150 733
View Website:
/http://www.tasmanchester.com/TAS_Fair.html
Email Address:
davidmackereth01@gmail.com
Standard Admission (£):
See organiser

Admission with classic car (£):
Free with prebooked classic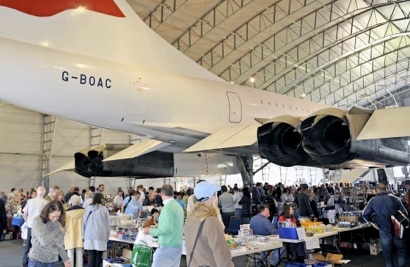 To go back, use 'back button' in browser