Event Information For ' Americana International'
Date:
10 July 2014-10 July 2014
Times:
see web site
Car Information:
Mainly American ..supported by the most american car clubs e.g.aac-uk aaacnw aaci cccuk mocgb.... but space for 100 non-american vehicles. Automobiles (and motorcycles)dating from the early 1900s to present day, with many hot rods, customs and very rare race, drag cars..www.americana-international.co.uk contains thousands of photos from 2007.
Event Description:
Europe's No 1 American Lifestyle Event Celebrating with thousands of classic american cars, bikes, trucks, vans and more. 2007's rain sodden summer saw well over 3000 exhibitors vehicles in attendance from the uk & beyond.. Over fifty top artists from the usa uk & europe performing cool 'american & brit' music from the '40s thru' to the millenenium year. Hundreds of trade stands+ side-shows.
Location:
The County Showground Winthorpe Newark
Area:
Nottinghamshire

Region:
East Midlands
Postcode:
NG24 2NY
Organiser Information:
Contact Name:
Chris R Jackson
Contact Address:
Tel:-: 0870 863 2100 Mobile 07815869804
View Website:
http://www.americana-international.co.uk
Email Address:
silvereagleuk@ntlworld.com
Standard Admission (£):
See organiser

Admission with classic car (£):
See organiser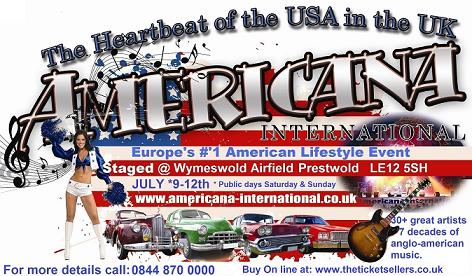 To go back, use 'back button' in browser