Event Information For ' Tewksbury classic vehicle Festival'
Date:
17 August 2014-17 August 2014
Times:
Starting at 11.00
Car Information:
We now have 3 LIVE MUSIC acts for wall to wall entertainment : 1. THE HAYWOOD SISTERS, singing the old favourite songs that we all can hum along with and tap our feet 2. BARRY SMITH, who has a huge repertoire of well known tunes on the accordion 3. THE DIXIELAND HOTSHOTS with all those classics from the south of the US of A PLUS A 1904 De Dion Bouton, and up to 400 other cars, 150 bikes, traders selling everything from gaskets to gooseberry jam A great day out for all the family, FREE: PARKING CHILDREN UNDER 12 CLASSIC CARS AND THEIR DRIVERS Entrance for adults only £5.
Event Description:
Formerly known as the Bredon Car Rally, now the Tewkesbury Classic Vehicle Festival is an annual event organised by the Rotary Club of Tewkesbury. Some 400 vehicles, including historic motorbikes, gather in the grounds of Tewkesbury School. Fairground attractions as well as roasts, burgers and a full bar ensure a superb day out.
Location:
Tewkesbury School Ashchurch Rd Tewkesbury
Area:
Gloucestershire

Region:
South West
Postcode:
GL20 8DF
Organiser Information:
Contact Name:
Dick de Leeuw
Contact Address:
Telephone Number: 01684 850940 Natton Garasge, Natton Lane, Ashchurch, Tewkesbury GL20 7 BG
View Website:
http://www.tewkesburycvf.org
Email Address:
dick@deleeuw-ltd.co.uk
Standard Admission (£):
£ 5.00 per head, Children under 16 free

Admission with classic car (£):
Exhibitors+ drivers FREE entry passengers £5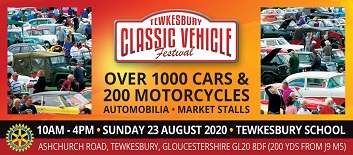 To go back, use 'back button' in browser