Event Information For ' Tewksbury classic vehicle Festival'
Date:
17 August 2014-17 August 2014
Times:
Starting at 11.00
Car Information:
FEW SHOWS CAN BOAST A DE LOREAN, A JENSEN HEALEY, A MILLE MIGLIA WINNING ALFA ROMEO 8C, BUGATTIS, ETC . We were able to re-unite an important Swiss Banker with the Rolls Royce Phantom that his father had previously owned and entered in Concours d'Elegance at Cannes etc. .When you have had your fill of cars and bikes you can listen to the fabulous HAYWOOD SISTERS who will entertain you with classic vintage songs as well . There are fine teas, cakes, burgers and hot dogs plus a licensed bar, trade stands and market stalls, selling everything from auto-jumble parts to jewellery, crafts and furniture
Event Description:
Formerly known as the Bredon Car Rally, now the Tewkesbury Classic Vehicle Festival is an annual event organised by the Rotary Club of Tewkesbury. Some 400 vehicles, including historic motorbikes, gather in the grounds of Tewkesbury School. Fairground attractions as well as roasts, burgers and a full bar ensure a superb day out.
Location:
Tewkesbury School Ashchurch Rd Tewkesbury
Area:
Gloucestershire

Region:
South West
Postcode:
GL20 8DF
Organiser Information:
Contact Name:
Dick de Leeuw
Contact Address:
Telephone Number: 01684 850940 Natton Garasge, Natton Lane, Ashchurch, Tewkesbury GL20 7 BG
View Website:
http://www.tewkesburycvf.org
Email Address:
dick@deleeuw-ltd.co.uk
Standard Admission (£):
£ 5.00 per head, Children under 16 free

Admission with classic car (£):
Exhibitors+ drivers FREE entry passengers £5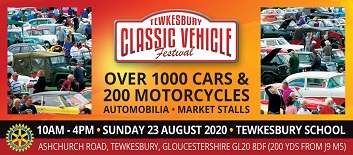 To go back, use 'back button' in browser