Event Information For ' Marsworth Steam & Classic Vehicle Rally Herts'
Date:
15 June 2014-15 June 2014
Times:
11am-5pm
Car Information:
Vintage & Classic Cars Plus Steam Engines, Agricultural, bikes and trucks. Free shuttle bus from Tring (pick up and drop off from outside The Rose & Crown on the hour, every hour, first bus at 11am). Treat Dad to a fun day out on Fathers Day! Tickets: all proceeds go to local fundraising and charities. Stall, trade and exhibitors enquiries by e-mail or visit our web site.
Event Description:
Marsworth's 16th annual Steam & Classic Vehicle Rally is to be held at Startop Farm, Marsworth See historic steam engines, agricultural, classic cars, bikes and trucks at this fun day out. Stalls, live music, beer tent, childrens entertainment and much more.
Location:
Startop Farm Marsworth
Area:
Hertfordshire

Region:
East
Postcode:
HP23 4LL
Organiser Information:
Contact Name:
Graham Dickinson
Contact Address:
Telephone Number: 01442827727 Mobile Number: 0144282772
View Website:
http://www.MarsworthSteamRally.co.uk
Email Address:
Info@MarsworthSteamRally.co.uk
Standard Admission (£):
Adults £4.00, children £2.00

Admission with classic car (£):
See organiser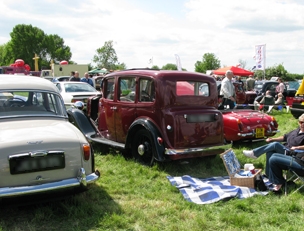 To go back, use 'back button' in browser