Event Information For ' North Cheshire Classic Car Show'
Date:
11 August 2016-11 August 2016
Times:
!0a.m. - 4.30p. m,
Car Information:
The whole event on hard standing. Vauxhall Motors South Road Car Park Ellesmere Port. CH65 1BQ. Junction 6 on M53 (Follow Signs for Vaxhall Motors)
Event Description:
A meeting of Classic Cars, Motor Bikes and Commercial Vehicles. Trade stalls, food and drinks , Ice creams . Club stands and Classic Wedding Cars.
Location:
Vauxhall Motors South Road Car Park Ellesmere Port
Area:
Cheshire

Region:
North West
Postcode:
CH65 1BQ
Organiser Information:
Contact Name:
Tim Kendall
Contact Address:
Tel: 0151 336 6019
View Website:
http://www.northcheshireclassiccarclub.co.uk
Email Address:
t.c.kendall@btopenworld.com
Standard Admission (£):
Over 16 £2.00 EACH

Admission with classic car (£):
Free but pre-book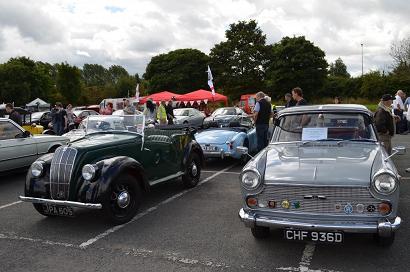 To go back, use 'back button' in browser