All UK Classic and Vintage Car Shows - "Over a million website visitors per year!"
The August 19+20th weekend, ahead of the Bank holiday, is quiet with only 27 events . However, there is one Major event, which is the superb Tatton Park show in Cheshire.
London+South East has Herne Bay, Weald & Downland Museum, Camberley, Capel Village, Mote Park, Sandford Springs Hotel, and Worthing Rugby Club. Classic Police Vehicles patrol Ace Cafe.
The North East has Sutton Upon Derwent and Brodsworth Hall near Doncaster. For something different, West Midlands has Reliants at Curborough Sprint Track
The South West has Tewksbury . MGs have the Snowdon run from Llandudno, Poachers in Lincoln and Admiral Nelson in Norfolk.
East has Hedingham Castle, Seething, Tewin, Brackley Town, Hunstanton, Stonham Barns, and Atomic Vintage Festival.
Scotland has Fife Association of Vintage Vehicle Owners Rally. Please have a look at the August listing for other events ...
Car shows & events coming up this week:–
Event Name: Ace Cafe Toyota 80th -1937-2017 Start Date: 22 August 2017 End Date: 22 August 2017
Event Description: Ace Cafe Toyota 80th -1937-2017
Car Type: All Classics Number of Cars Attending: max 50 medium sized vehicles
Times:18:00 onwards
Location: Ace cafe
Area: London Region: London+South East
Organisation: Ace Cafe London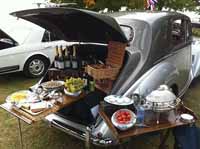 Event Name: Great Dorset Steam fair Start Date: 24 August 2017 End Date: 28 August 2017
Event Description: The Great Dorset Steam fair is one of the Country leading steam traction events but still has a significant Classic car presence. One of the highlights of The Great Dorset Steam Fair is the old time steam Funfair. Annually, over 60 Showman's Engines with their gleaming, twisted, brass appear generating the light and power for the old roundabouts and swing-boats.
Car Type: All classics Number of Cars Attending: 100+
Times:
Location: Tarrant Hinton nr Blandford camp.
Area: Dorset Region: South West
Organisation: Great Dorset Steam fair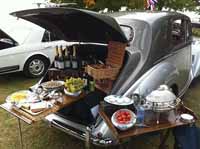 Event Name: American cars on Poole Quay. Start Date: 25 August 2017 End Date: 25 August 2017
Event Description: Poole Quay is closed and filled with American cars
Car Type: American Number of Cars Attending: .
Times:6:00 pm - 9:00 pm
Location: Poole Quay
Area: Dorset Region: South West
Organisation: Can Am Car Club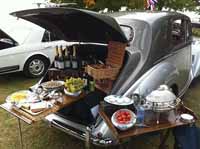 Event Name: Carfest South Hampshire Start Date: 25 August 2017 End Date: 27 August 2017
Event Description: The dates have been confirmed for 2016 at Laverstoke Park Farm, Hampshire. Jody Scheckter started this organic/biodynamic farm in Hampshire
Car Type: All classics Number of Cars Attending:
Times:See organiser
Location: Laverstoke Park Farm Overton
Area: Hampshire Region: London+South East
Organisation: Carfest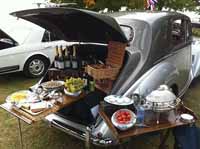 Event Name: Tabley Game fair Cheshire Start Date: 26 August 2017 End Date: 28 August 2017
Event Description: The Vintage Vehicle Section covers a wide variety of vintage vehicles and machinery. From classic cars and bikes to impressive Steam Engines, Tractors, Miniatures and Stationary Engines. All of which were great inventions of their time, well thought of and have been cherished and looked after by enthusiasts for generations. Clubs and Associations display these wonderful vehicles and machinery at a number of local events.
Car Type: All classics Number of Cars Attending:
Times:
Location: Tabley House, Knutsford
Area: Cheshire Region: North West
Organisation: Smiths Arms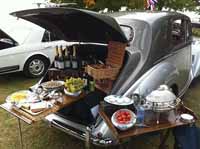 Event Name: American and Custom car Weekender Middlesex Start Date: 26 August 2017 End Date: 27 August 2017
Event Description: Organised by Whitewebbs Museum of Transport, Whitewebbs Road, Enfield, Middlesex. EN2 9HW
Car Type: All classics Number of Cars Attending:
Times:11am to 4.30pm
Location: Whitewebbs Museum of Transport
Area: Middlesex Region: London+South East
Organisation: Whitewebbs Museum of Transport

Event Name: Wings & Wheels at Dunsfold Park Start Date: 26 August 2017 End Date: 27 August 2017
Event Description: Dunsfold Wings & Wheels is firmly established as one of the UKs most popular family days out and will be returning to the historic setting of Dunsfold Aerodrome (home of BBCs Top Gear), Guildford, Surrey. With 5 hours of thrilling aviation displays which have included visitor favourites; the Red Arrows, BBMF and Typhoon, it also includes a Wheels Zone of supercars and classic favourites performing exciting demonstrations. The retail village and arena packed with entertainment and music mean theres something for all the family the whole weekend.
Car Type: all classics Number of Cars Attending: 100+
Times:9am-7pm
Location: Dunsfold Park
Area: Surrey Region: London+South East
Organisation: Wings & Wheels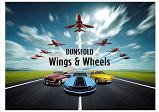 Event Name: Morgan Run For The Hill Worcestershire Start Date: 26 August 2017 End Date: 27 August 2017
Event Description: Weekend event hosted by the Morgan Motor Company. Live music & entertainment including English Symphony Orchestra concert, 1000s of Morgans, craftsmanship demonstrations, all car clubs welcome, autosolo, concourse, stunt plane display and much much more!
Car Type: All classics Number of Cars Attending: 1000+
Times:See above
Location: Three Counties Showground Malvern
Area: Worcestershire Region: West Midlands
Organisation: Morgan Motor Company

Event Name: Hellingly Festival of Transport Start Date: 26 August 2017 End Date: 28 August 2017
Event Description: Eastbourne Historic Vehicle Club Hellingly Festival of Transport in Broad Farm, Hellingly, East Sussex.
Car Type: All classics Number of Cars Attending:
Times:
Location: Broad Farm, Hellingly
Area: Sussex Region: London+South East
Organisation: Eastbourne historic vehicle club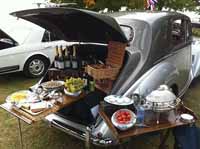 Event Name: Rudgwick steam and country show (Sussex/Surrey) Start Date: 26 August 2017 End Date: 28 August 2017
Event Description: Full working show with 44 acres of attractions. 6,000 sq ft Craft Marquee.Food hall. Acres of markets stalls. Large Autojumble. Daily agricultural music from the New Forest Yokels in our 140 ft beer marquee with mini beer festival. Public camping available. Old time agricultural show. All the animals, machinery and equipment at work.
Car Type: All classics Number of Cars Attending: 200
Times:8.30am to 5.30pm Daily
Location: Horsham and Guildford
Area: Sussex Region: London+South East
Organisation: Rudgwick steam and country show