All UK Classic and Vintage Car Shows
We have 169 shows listed in July! This includes the the Le Mans Classic on 8-10th, the Chateau Impney Hill climb also on 9-10th, and the Silverstone classic on 29-31st. .
The New Classic year Continues strongly - enjoy!
If any shows are having weather problems please let us know.
The next few events coming up are:–
Event Name: Huddersfield Autojumble - rally Date: 30 October 2016
Event Description: OLD MARKET BUILDING, BROOK STREET, HUDDERSFIELD NEXT TO TESCOS - SIGNED - HD1 1RG
Car Type: All classics Number of Cars Attending:
Times:
Location: Brook St Huddesrfield
Area: Yorkshire Region: North East
Organisation: Phoenix Fairs

Event Name: BrooklandsAutumn Classic Breakfast Date: 30 October 2016
Event Description: Head down to the birthplace of British motorsport and aviation for the third Sunday morning Breakfast Club of 2015. All cars are welcome to park on site until 9:30am, after which normal visitor car parking can be used.
Car Type: All classics Number of Cars Attending: 150+
Times:Breakfast 8-9:45am
Location: Brooklands
Area: Surrey Region: London+South East
Organisation: Brooklands Museum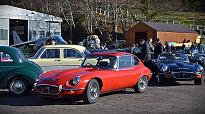 Event Name: Westcountry Mini Scene Cap'N Jaspers 003 Date: 30 October 2016
Event Description: Gathering of mini and MINI at Sutton Harbour Plymouth with up to 100 different Mini variants on display. Perfect setting for cafes, Bars and shops on the Harbour side. . .
Car Type: mini Number of Cars Attending: 100+
Times:10:00 - 15:00
Location: Sutton Harbour Barbican Plymouth
Area: Devon Region: South West
Organisation: WestcountryMiniScene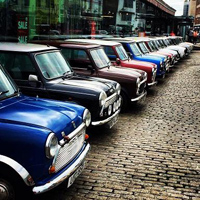 Event Name: Date: 01 November 2016
Event Description: **** Please note that events following this one do not yet have 2015 dates ******
Car Type: Number of Cars Attending:
Times:
Location:
Area: Region:
Organisation: Classic Car Driving

Event Name: Ace Cafe classic mini meet Date: 03 November 2016
Event Description: The monthly Mod n' Mini Night (is all classic Minis) - 1st Thursday of the month at the Ace cafe
Car Type: Mini Number of Cars Attending:
Times:18:00 to 23:00pm
Location: Ace cafe north Circular Rd
Area: London Region: London+South East
Organisation: Ace Cafe London